President Donald Trump visited South Korea on the 7th and emphasized creation of more jobs and solutions for imbalance in trades. Just like his visit in Japan, President Trump wants to strengthen security cooperation while seeking practical benefits in economy field.
President Moon Jae-in of South Korea and President Trump visited an U.S. Army base called Camp Humphreys, which is in Pyeongtaek, and held an one-on-one summit and an expanded summit at the Blue House.
"I hope that many jobs will be created in the U.S. through these summits." said President Trump at Camp Humphreys. "This is one of the reasons why I visited South Korea." President Trump did not hide his intention of looking after economic benefits while emphasizing security cooperation with South Korea.
"Loss in trades between South Korea and the U.S. is a problem that must be solved." said President Trump during his opening statement at the expanded summit. While thanking South Korea for purchasing many military facilities and weapons from the U.S., President Trump also indirectly expressed his goal to reduce losses from trades through exportation of weapons.
Even before visiting South Korea, President Trump hinted that he will have trade problems including negotiation on revision of FTA (Free Trade Agreement) as his major agenda at this summit. South Korea is making more than $20 billion in surplus from the U.S.
Just like how President Trump mentioned in Japan, which was the first country he visited during his tour in Asia, President Trump announced many times that improvement in 'unfair trades' with South Korea is very urgent.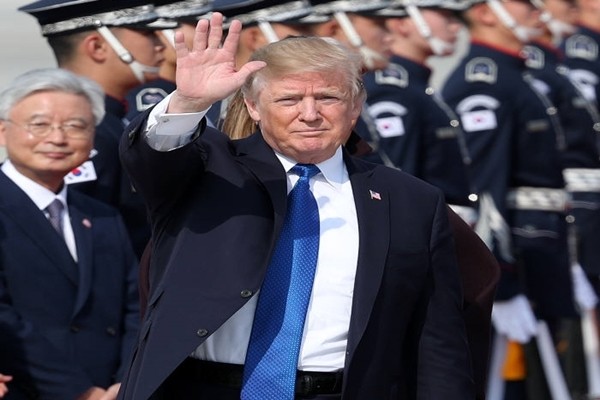 Experts predict that this summit will become a turning point for relations between these two countries on trades while pressure from the U.S. continues to grow strong. "I hope that these discussions that will take place today and tomorrow will end up successful." said President Trump with emphasis.
This is the third summit between President Moon and President Trump since President Moon was appointed as the president of South Korea. It has been 46 days since they had their second summit in New York on the 22nd of September. After the official welcoming event that was held at the Blue House, President Moon and President Trump moved to Baekak Room and had an one-on-one summit with just their interpreters. Afterwards they had an expanded summit with their lead staffs in attendance.
President Moon requested continuous effort on strengthening security cooperation. "I highly appreciate President Trump of leading international cooperation on problems regarding North Korea's nuclear weapons." said President Moon.
President Moon provided South Korea's best ceremony for President Trump, who visited South Korea on this day as a national guest. Initially he was planning to welcome President Trump at the Blue House. However he visited Pyeongtaek himself in order to welcome President Trump with best respectful treatment that fits to a national guest. This is the first time when a South Korea president welcomed a U.S. president who is visiting South Korea at an U.S. Army base instead of the Blue House.
"It has been 25 years since a U.S. president visited South Korea and President Trump is the first national guest for our government." said President Moon. "We sincerely welcome President Trump and First Lady for visiting the Blue House."
Staff Reporter Choi, Ho | snoop@etnews.com